The most unusual visit of Paris where we will discover 20 meters underground an ossuary where lie the remains of more than 6 million Parisians …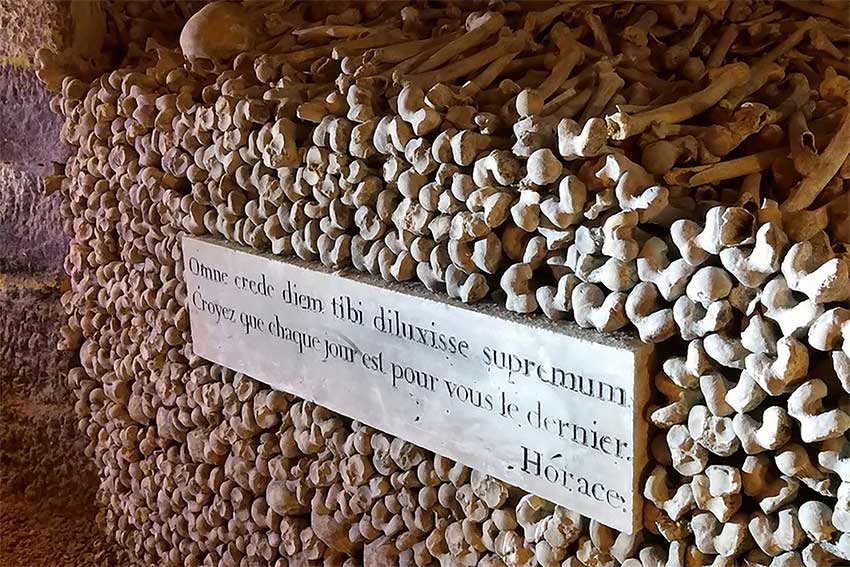 Are you looking for an unusual visit during your visit to Paris? A strange and unique place that you won't find anywhere else?
Let's go for a guided tour of the Paris' Catacombs. Located in Place Denfert Rochereau in the 14th district of Paris, the entrance of the Catacombs welcomes every year visitors looking for a new experience.
These Catacombs have existed since the time of King Louis XVI in response to the lack of space in Parisian cemeteries on the verge of saturation. It was therefore decided at the end of the 18th century to empty the Parisian cemeteries and to transfer the bones found there to old stone quarries located south of Paris, which were soon wrongly called the Catacombs of Paris.
The 2 km-long guided tour consists of two parts and lasts about 1h30. No question of being claustrophobic if you choose this tour. Indeed, we will go down 20 meters below the streets of Paris to complete our tour and no emergency exit is provided in the middle of the visit…
After descending the 133 steps we will then begin our visit by discovering the incredible underground network of quarries in Paris which was used to extract the stones necessary for the construction of Paris. This gigantic underground network was very early used by smugglers under the Ancien Régime but also by the resistance during the Second World War in the fight for the liberation of Paris or more recently by Parisians to party illegally.
The second part of the visit, the one that piques the curiosity of all visitors, will be the visit of the Ossuary. This ossuary, which stretches over a little less than a kilometer, has been collecting the human remains of more than 6 million Parisians for more than 130 years. It is therefore indeed a cemetery that we enter once we pass the inscription « Stop, this is the Empire of Death » … The incredible staging of the bones all arranged in a decorative way, helps to transport us into a vision of death very fashionable in the 19th century, which is to value death, to sublimate it and therefore here to show it as in a museum. A unique and unusual place that nevertheless requires respect and dignity on the part of all visitors who will decide to venture there.
Guided tour from € 200 (example price for up to 4 people)
Entrance ticket not included in the price of the visit
Meeting directly on the spot or possibility to organize transport to the meeting place, contact me
Opening hours: Tuesday to Sunday from 10 am to 8.30 pm
For more details do not hesitate to contact me