A walk in the most beautiful village of Paris where we will walk in the footsteps of Renoir, Van Gogh or Picasso and discover secret or famous places such as the Moulin Rouge.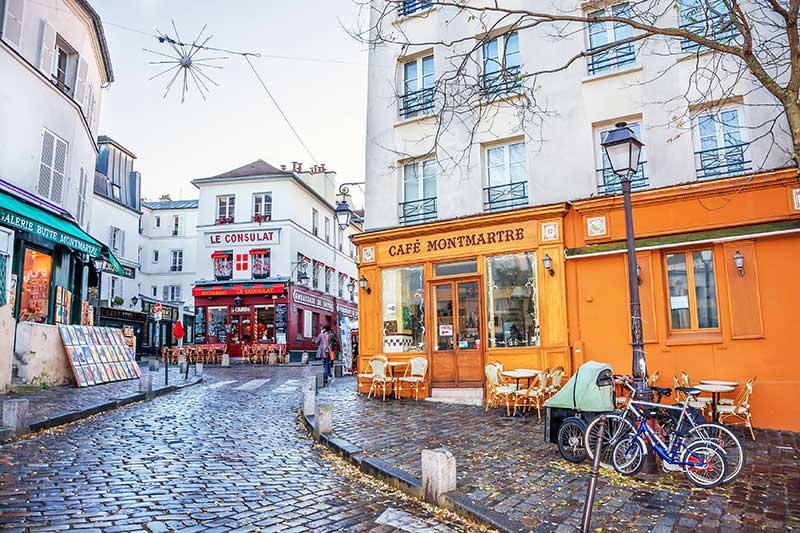 Located in the north of Paris in the 18th arrondissement, the Montmartre district is famous for its small streets winding through the vineyards, for its Basilica of the Sacred Heart where day and night the faithful take turns to continue a chain of prayer uninterrupted for 135 years, but also for the famous Moulin Rouge cabaret, the Pigalle district and its funicular.
A strange district which owes its originality to its particular history that I will be very happy to talk about during my guided tour.
Because if today Montmartre is part of Paris it was not always the case. Village at the gates of Paris until 1860, this small corner of land was home until the French Revolution to a women Abbey. This community cultivated the wheat fields and vines that dotted the hill. Numerous mills installed on the Montmartre hill were then used to press wine and grind the grain cultivated by the abbess.
The Revolution having eliminated the last abbess, this district was left aside at the time of the development of Paris and brigands and people without money settled there in a kind of unbuilt scrubland, for lack of better. It was at the foot of the Montmartre hill that many Parisians came to slum in the many cheap cabarets and bistros that developed there in the 19th century.
From 1880 onwards, many artists, seeking space and greenery or penniless, found refuge there. Renoir painted his Bal au Moulin de la Galette there. Van Gogh lived there with his brother Théo on rue Lepic. Toulouse Lautrec frequented the Goulue and Valentin le Désossé at the Moulin Rouge. Picasso settled at the Bateau Lavoir where he met Braque and Modigliani, with whom he frequented the Cabaret du Lapin Agile and the cafés of the Place du Tertre. Montmartre was at that time a meeting place and a place of creation for a new generation of artists with a bohemian and often rebellious spirit.
Today, many filmmakers choose Montmartre as their film set, and our walk will allow us to discover some mythical places such as the Moulin Rouge or the Café d'Amélie Poulain, but also to take a gourmet break at some of the best pastry shops in France.
Guided tour from 200 € (example price for up to 4 people)
Meeting directly on the spot or possibility to organize transport to the meeting place, contact me
Hours: every day from 10am to 6pm
For more details do not hesitate to contact me